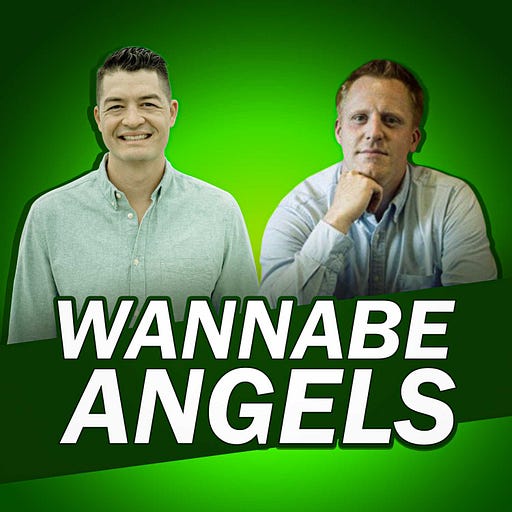 Apr 26 • 43M
Angel Investing in Devtools with swyx [ep. 12]
All Things Angel Investing in Devtools and Devrel
Appears in this episode
We are the angel investing JV team, and we are interviewing and learning from the best angel investors around.
In this episode, Colin and Harry are joined by swyx aka Shawn Wang. Shawn is a well-known angel investor actively involved in the developer relations and developer tools community. He has made a name for himself as a blogger, speaker, and community organizer. Get ready to learn everything you wanted about Devtools, Devrel, becoming a scout, and much more!
Where to Listen and Watch:
Apple -
Spotify -
YouTube -
Segments:
0:00 - Intro
3:03 - What are Devtools?
7:20 - Why did Shawn get into Angel Investing?
8:04 - What is a Scout?
14:41 - The Path to Being a Scout
22:00 - Where does most of Shawn's deal flow come from?
24:23 - What areas is Shawn excited about that are under the radar?
26:42 - Details on Shawn's new Startup in the AI Space
33:46 - Twitter Thread - Don't diversify; concentrate your investments
38:38 - Twitter Thread - Are the K1s worth the headache?
Links to Additional Info:
Shaw Wang LinkedIn - https://www.linkedin.com/in/shawnswyxwang/
Shaw Wang Twitter - https://twitter.com/swyx
Website - https://www.swyx.io/
Will Manidis Tweet - https://twitter.com/WillManidis/status/1643611361698541576?s=20
Katelyn Donnelly Tweet - https://twitter.com/krdonnelly/status/1641403145132847106?s=20
Other Ways to Connect with Wannabe Angels
YouTube - https://www.youtube.com/channel/UCTd0VpLRUqEfQ5mk431z2Lg
Tik Tok - https://www.tiktok.com/@wannabeangels - 
Twitter - https://twitter.com/wannabe_Angels
Linkedin - https://www.linkedin.com/company/wannabe-angels/
About Colin:
Colin Gardiner has spent over a decade building startups focusing on online marketplaces. Most recently, he worked for Outdoorsy as Chief Revenue Officer. He advises marketplace/platform startups on growth, analytics, monetization, fundraising, and strategy. He also runs the rapidly growing syndicate Yonder Ventures, which invests in marketplaces and platforms and the SaaS, Fintech, Insurtech, and the technology enabling them.
Colin LinkedIn - https://www.linkedin.com/in/colingardiner/
Colin Twitter - https://twitter.com/ColinGardiner
About Harry:
Harry Campbell runs The Rideshare Guy, a popular community for drivers and gig workers in the rideshare and delivery space. He's an active angel investor, having invested over $500k in 30+ companies and funds over the past few years; he is still trying to figure it all out, though!
Harry LinkedIn - https://www.linkedin.com/in/harrygcampbell/
Harry Twitter - https://twitter.com/TheRideshareGuy